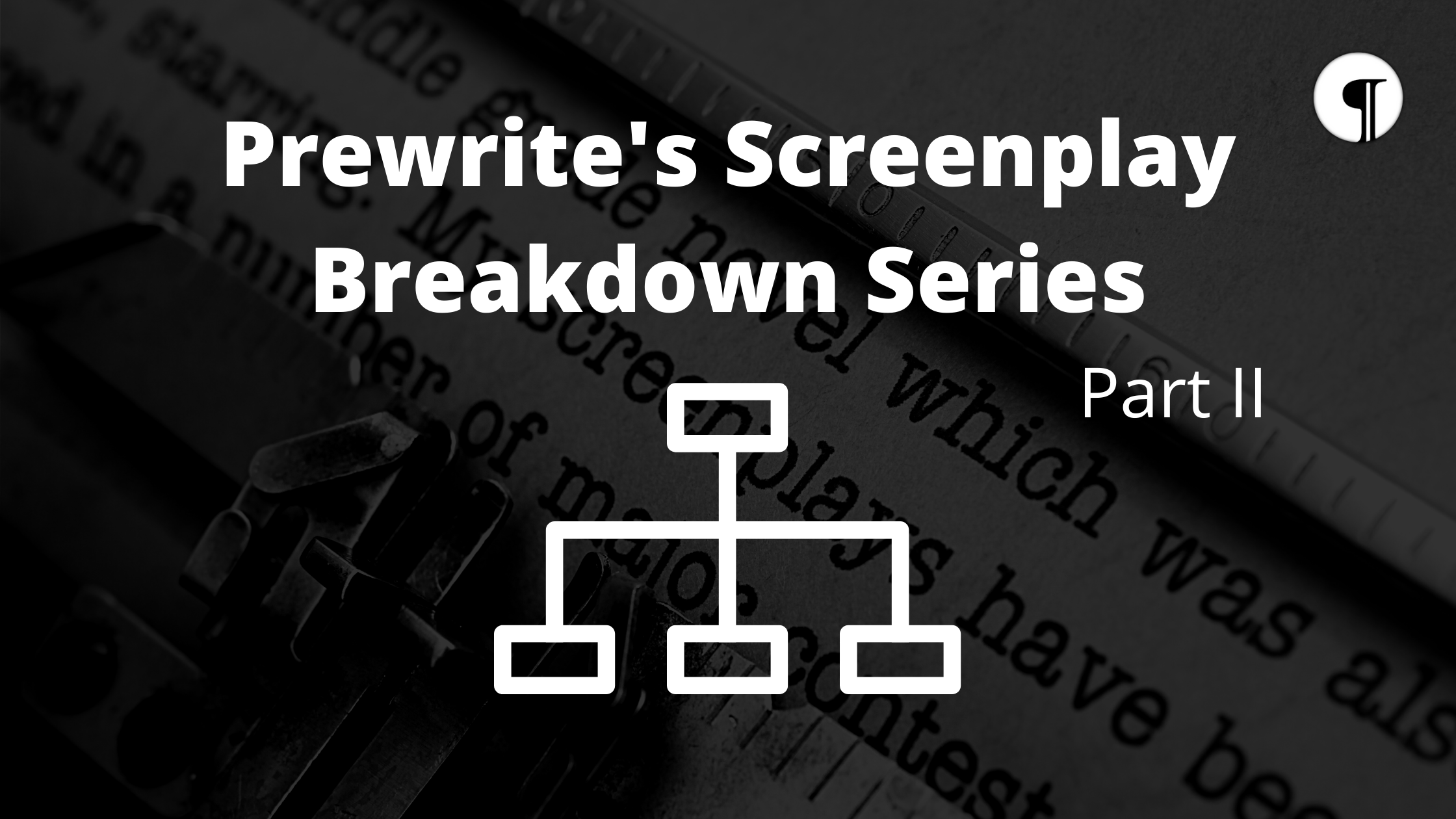 Screenwriters are often regarded as the unsung heroes of Hollywood cinema. The directors thrive in the spotlight during the creation of a film, while the writers practically get zero press whatsoever.
Many particular elements go into a great screenplay; screenwriters don't just create them by accident. At Prewrite, we love to elevate our craft by breaking down such impressive films and identifying what makes them work.
For this article, let's tackle these two successful screenplays:
The Social Network
Get Out
Through structure and excellent storytelling, these thought-provoking films have inspired and influenced others since their conception.
# The Social Network
We lived on farms, we lived in cities, and now we are going to live on the Internet.
Screenplay by Aaron Sorkin and book by Ben Mezrich, The Social Network is highly respected as the film that defined its decade. Let's examine the Three-Act Structure behind this fascinating true story.
Act I opens up with Harvard student Mark Zuckerberg getting dumped by his girlfriend, Erica, in a college town bar. This rejection prompts Mark to slander her on his blog, and create a new coding project called FaceSmash, where students can rank women.
With the help of his friend Eduardo, FaceSmash goes viral, and Mark receives six months of academic probation for his offenses. He is soon approached by fellow Harvard students, the Winkelvoss twins, to discuss a new idea - Harvard Connection.
Throughout the film, the audience is brought back and forth between Mark's time at Harvard and his subsequent depositions with Eduardo and the Winklevosses. It becomes apparent that both parties are suing Mark for millions of dollars.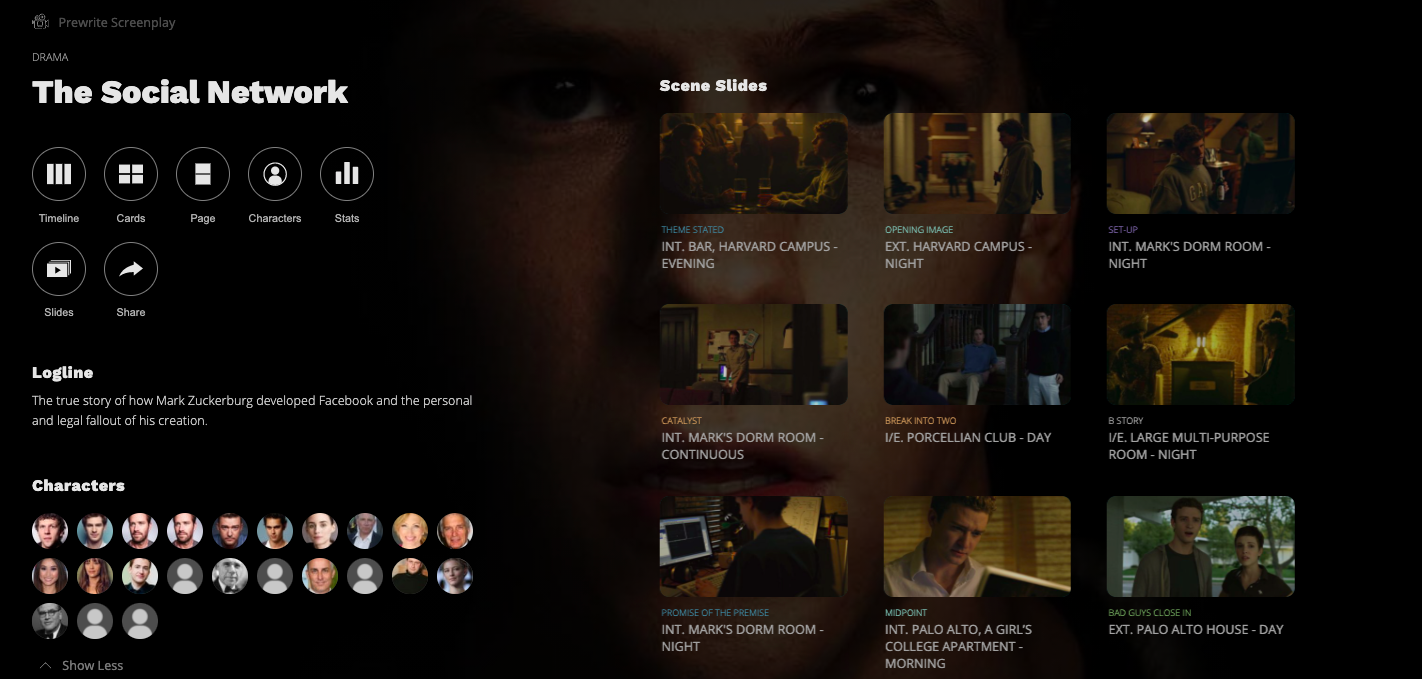 After his conversation with the Winklevosses, Mark constructs an even better idea that he decides to keep from them. Thus, the second act consists of Mark's journey to founding his social network, Facebook. With Eduardo as his co-founder and CFO, he begins.
When Facebook launches, it takes off quickly and sends Harvard's campus into a frenzy. As a result, the Winklevosses take legal action against Mark for "stealing" their idea. This struggle continues throughout their time at Harvard and beyond.
As Facebook continues to grow, Mark and Eduardo team up with the founder of Napster, Sean Parker, who grabs a hold of Mark with his wild stories and an invitation to California. After the first meeting, Sean begins to push Eduardo out.
Together in California, Mark and Sean continue to develop and expand their operation in a house that Eduardo pays for. When Eduardo finally shows up, it's clear that he's starting to get left behind. Therefore, he cancels the bank account supporting Mark.
In Act III, Facebook receives an investment of $500 million. When Eduardo meets with the Facebook attorneys after, he unknowingly signs a contract that dilutes his shares of the company exponentially, and he feels betrayed.
Facebook soon reaches over one million users, and the team throws a party. With multiple underage interns drinking and doing drugs, this results in an undesirable scandal, and Mark is disappointed.
The movie ends in the deposition room with Mark and his legal team's associate. He learns that he'll most likely have to settle, and pay Eduardo and the Winklevosses. Everything comes full circle when he searches for his ex-girlfriend Erica's Facebook account and sends her a friend request.
The Social Network clearly has a brilliant and innovative plot that grips the audience through stories of human connection. According to Aaron Sorkin himself, this modern film explores ancient themes of friendship, betrayal, class, jealousy, and power - all tied into a riveting tale about the cost of success.
See Prewrite's full film breakdown here. (opens new window)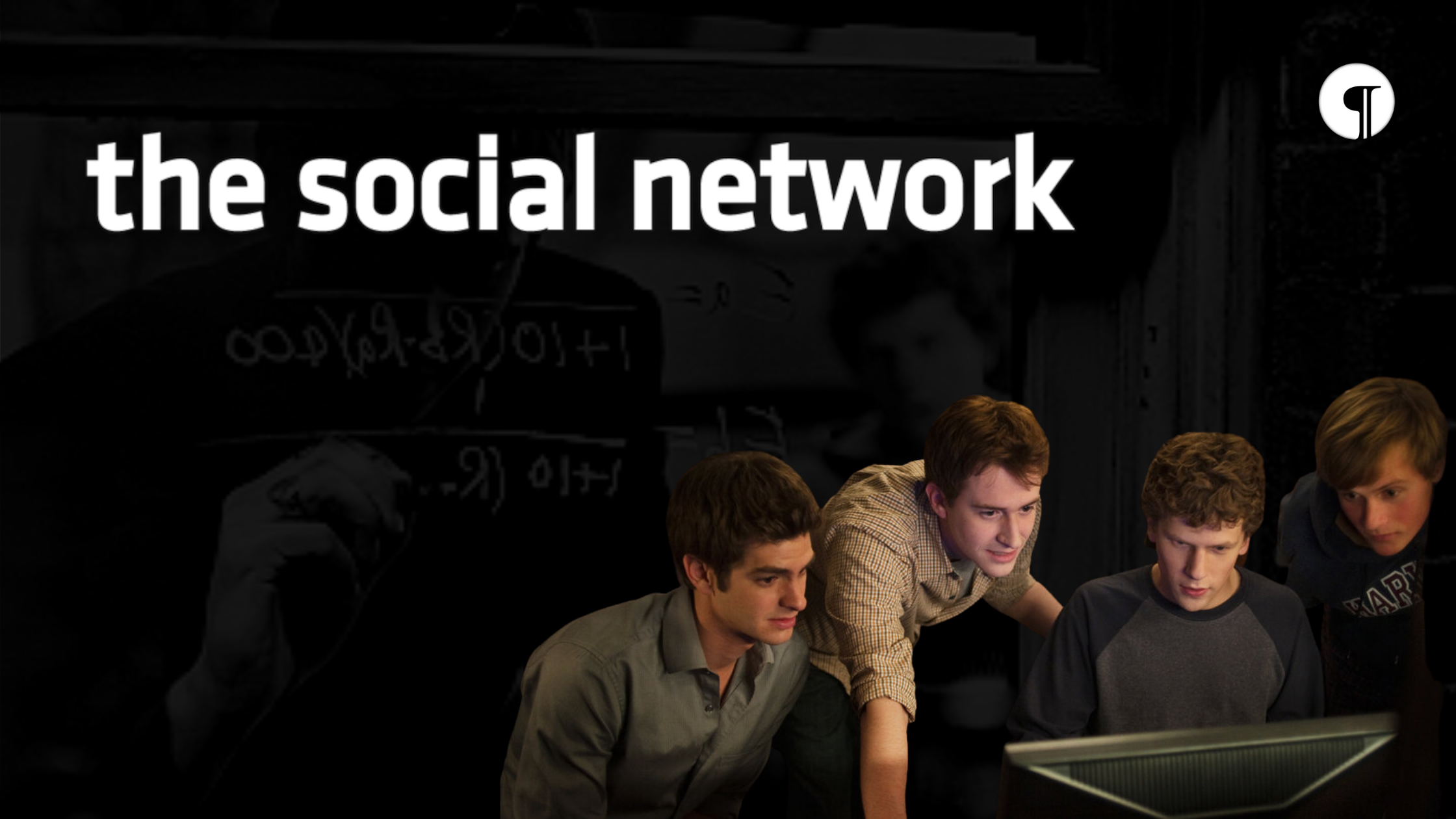 # Get Out
I mean, I told you not to go in that house.
Written by Jordan Peele, Get Out is an increasingly relevant horror screenplay with a bold message about social justice. Also using Three-Act Structure, this unique movie caused a huge but necessary stir in the film industry.
Act I kicks off with a Black man walking through an eerily lit, affluent white neighborhood; a white sports car stalks him down the sidewalk. Eventually, a driver gets out of the car, assaults the man, and stuffs him in the trunk.
Flash forward - viewers are shown Chris Washington with his girlfriend, Grace Armitage. They're at Chris' house, getting ready to visit Grace's parents at the Armitage Estate. Chris is clearly uneasy about being a Black man meeting a white family. His feelings are vindicated when he meets the Armitages, as almost every interaction is awkward and uncomfortable.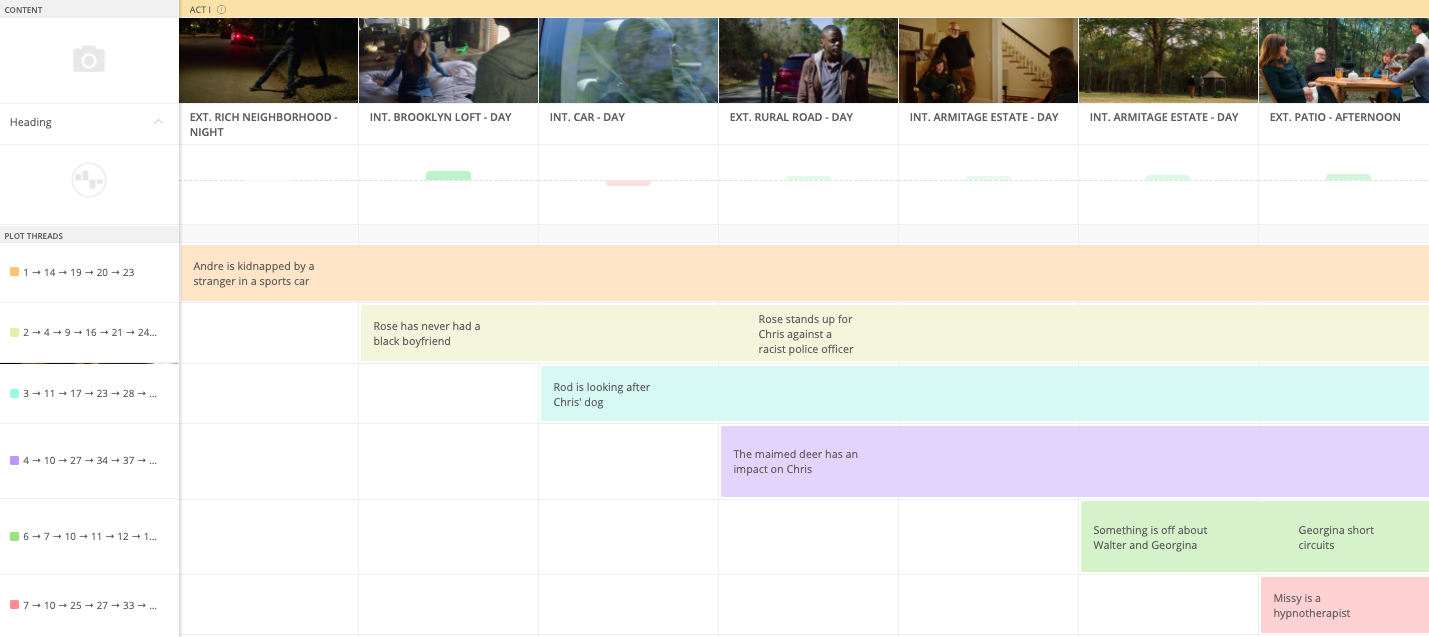 Starting off Act II, Chris sneaks out for a cigarette in the middle of the night. On his way back inside, Chris is startled by Grace's mom, who hypnotizes him into stopping his smoking habit. He wakes up in a panic.
The next day, the Armitages throw a party at their estate. Not only is everyone acting incredibly strange toward Chris, i.e. asking him about the African American experience, but Chris also sees another Black man he recognizes from home. He calls his close friend, Rod, who begins an investigation.
Eventually, Chris finds out that he's in danger, and he knows he must get out. Before he can escape, the Armitages capture him and tie him up. Chris finds out in horror that his body is to be inhabited by the mind of another person through an operation.
In the final act, Chris begins his escape. After resisting another hypnotization, he's able to strike Grace's brother Jeremy unconscious. He then proceeds to kill both of her parents, before fighting and killing Jeremy on his way out of the house.
Chris gets into a car and drives away, accidentally hitting the Armitages' maid, Georgina (who is really Grace's grandmother). They end up crashing, giving Grace time to run after Chris with a gun. Walter, who is really Grace's grandfather, shoots Grace before turning the gun on himself. Finally, Rod comes to the rescue in a TSA car, and he takes Chris away.
Throughout Get Out, Jordan Peele refuses to let the audience off the hook; we're constantly on the edge of our seats. Although the film reveals many uncomfortable truths about the prevalence of racism, we're left with a theatrical, satisfying payoff at the end.
See Prewrite's full film breakdown here. (opens new window)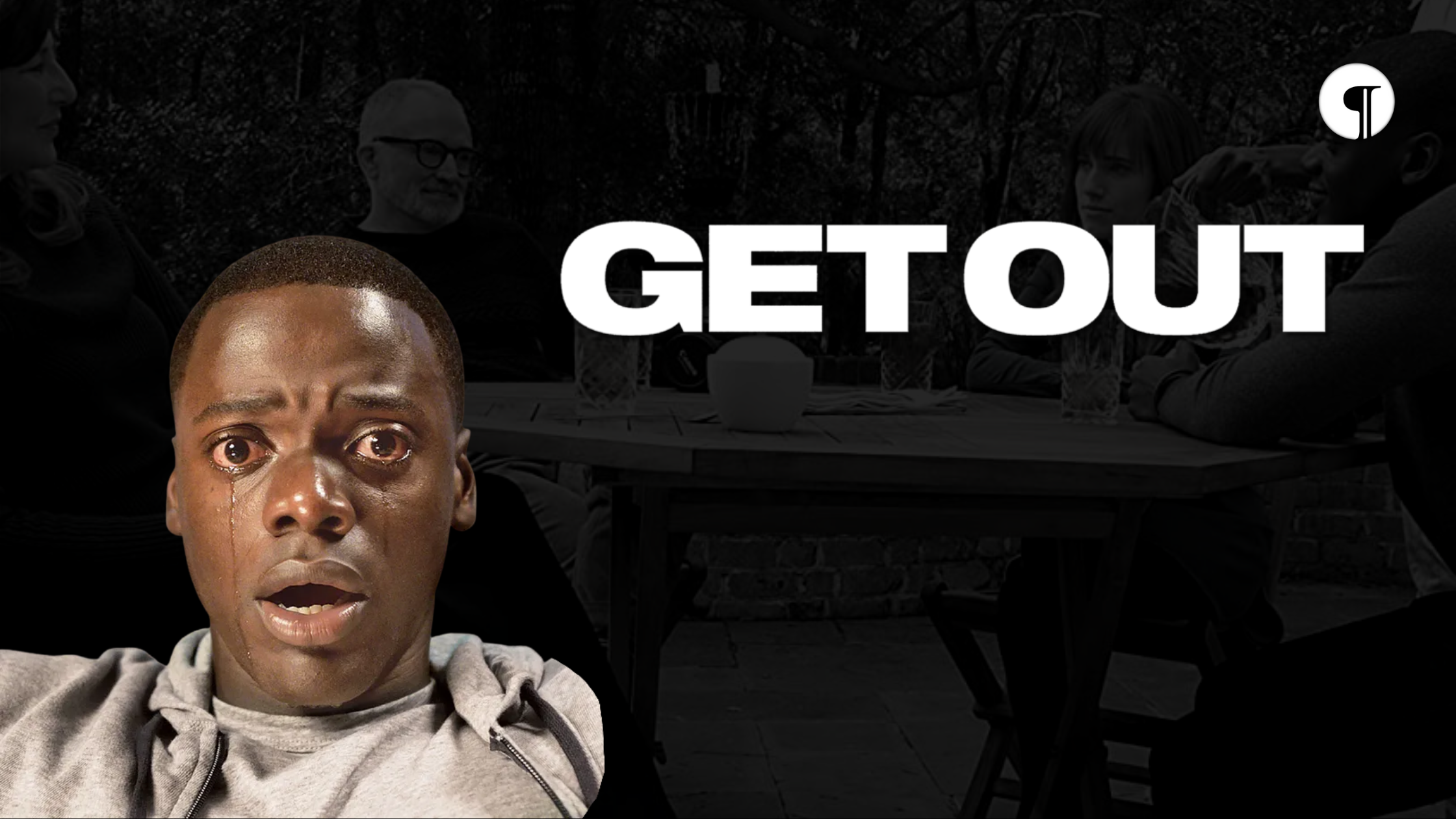 # Lean On Us
Prewrite is a powerful tool that will get your story where it needs to be, piece by piece. With Prewrite, you'll be able to effortlessly execute flawless story structure, much like the structure behind The Social Network and Get Out.
Although directors seem to get all the glory over screenwriters, at Prewrite, we disagree with that sentiment. Writing isn't easy, and good scripts become bad movies all too often.
Get inspired, and stay the course - we'll help you along the way.