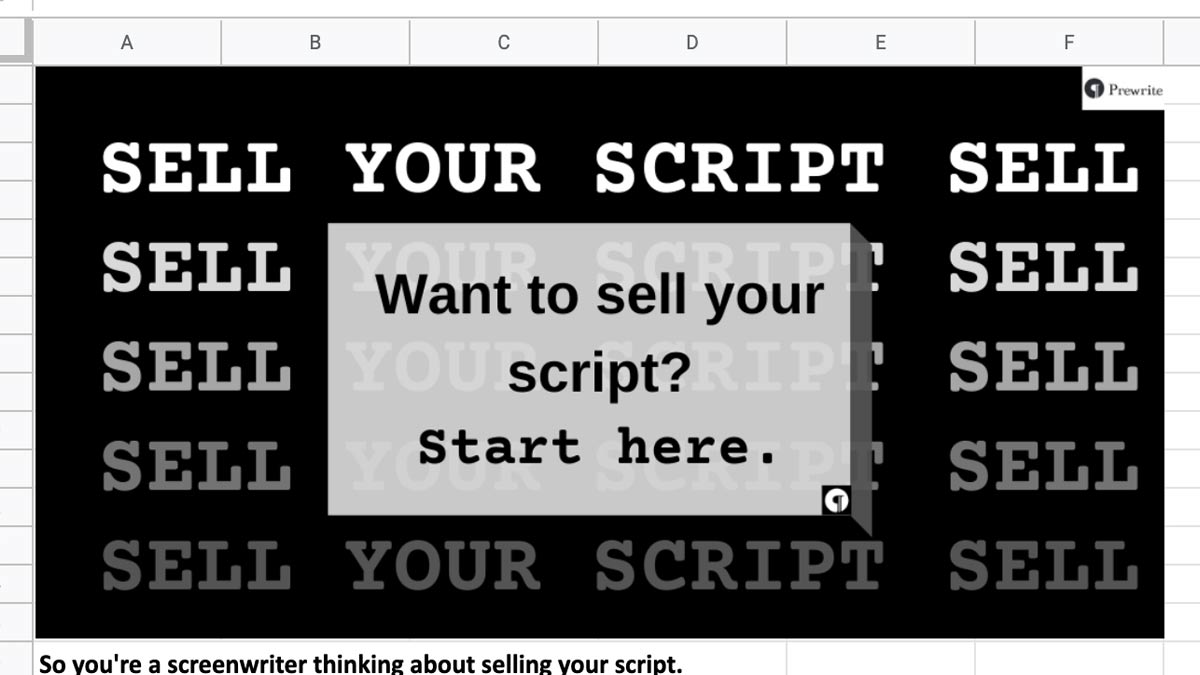 So you're a screenwriter thinking about selling your script.
Will anyone buy it?
What genre is selling right now?
Are some agents better at selling scripts?
Is your logline strong enough to capture attention?
We've compiled a list of spec scripts sold from 2016 to 2019. It's far from exhaustive, but it'll give you some context for recent spec script sales.
Access the spec script sales resource here: Spec Script Sales (opens new window)
Check back often for updates and additions.
Share this resource on Twitter (opens new window)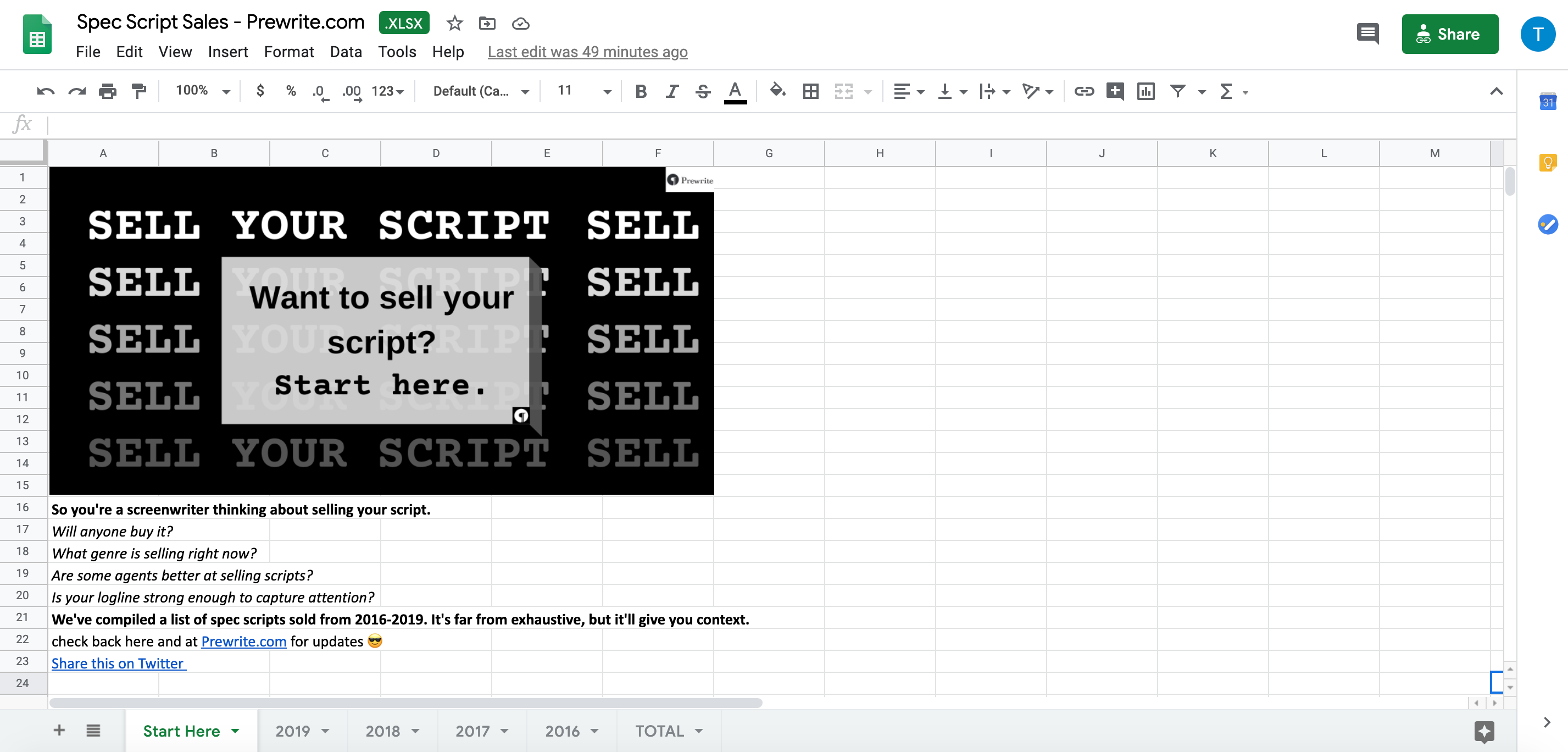 # Selling your script
You've finally finished a screenplay you're proud of. Congrats! But are you now trying to figure out how to sell your script?
In this post, we'll discuss a few options. Quick caveat: selling your script isn't an exact science (otherwise there'd be more scripts sold).
These options are suggestions based on tactics that have helped other screenwriters sell their scripts.
# Use marketing strategies to sell your script
There's no shortage of service providers who promise to help you sell your script. But try selling it yourself first!
There are a few easy tactics you can use to stand out from the competition, and ultimately sell your script.
Nothing is easier than uploading your script to Prewrite and enabling the StoryShare feature.
By uploading to Prewrite, the tool automatically generates a stunning pitch deck, complete with scene-by-scene breakdowns, story statistics, and a ton of other key features design to help you sell your script.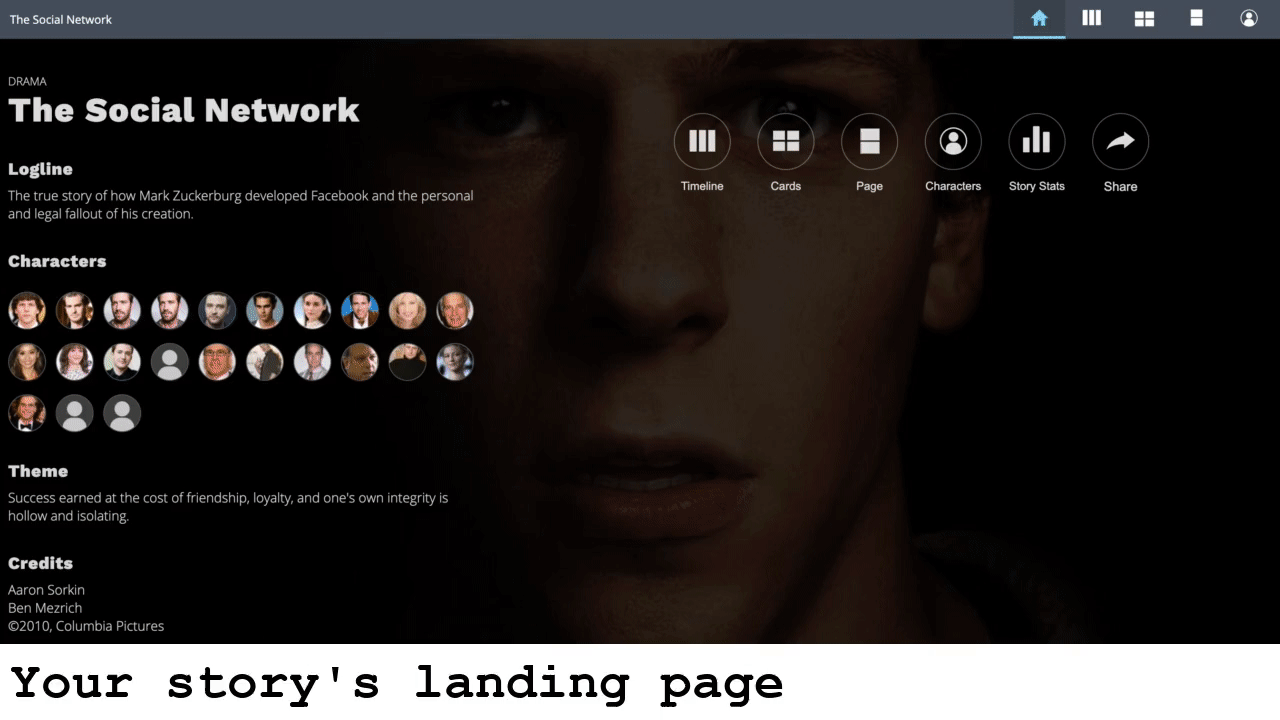 The pitch deck can actually serve as a landing page for your script. We even give you the option to track how many visits your screenplay generates, so you can know if your script gains popularity.
Why should you take advantage of the Prewrite StoryShare feature? Here's an inconvenient truth: no one reads the entirety of a 120-page screenplay.
There's not enough time and not enough attention to comb through every last detail. And many script analysts have to read hundreds of screenplays per week.
But with the Prewrite StoryShare feature, readers can quickly and easily see what really matters: story structure, plot development, character development, and more.
This is an absolute game-changer if you're trying to sell your script.
# Pitch the sale of your script to producers
Another smart option when it comes to selling your script is to find a producer. If you can get your script into the hands of one, they may want to get involved with raising money.
You'll want to prioritize which producers to reach out to based on their previous work, personal preferences, and current workload. A lot of this information can be hard to find, but resources like IMDb Pro can help streamline your research process.
Keep in mind that Producers often have jampacked schedules if they're currently shooting. If that's the case, try reaching out to their coworkers and/or assistants to get an introduction or even a meeting.
Be prepared to actually pitch the producer if they do agree to a meeting. Your vision, via your screenplay, will eventually morph into their vision, so try to stay open-minded if they provide commentary and new ideas.
# Hire an agent to sell your script
If you still have energy after you've finished your screenplay, you could next opt to hire an agent. For decades, agents have helped screenwriters sell their scripts.
That's starting to change thanks to the democratization of Hollywood, but it's still a decent option to help you sell your script.
The easiest way to get the attention of an agent is to simply write something they cannot ignore.
Hopefully that's the case for your screenplay, but don't fret if your genius isn't immediately recognized.
The more difficult path can be carved through cold outreach - calling and emailing, networking, writing query letters, or even working in the industry.
In any of those scenarios, it'd still be good to have a place to showcase your work, whether through your Prewrite StoryShare page or a personal portfolio website.
Remember that agents only make the big bucks if they help you sell your script, so they often look for quality structure, development, and story.
# Enter screenwriting competitions
There's no shortage of competitions out there these days, but be discerning and create a list of those 5-7 you think are the best fit for your script.
Placing highly in one of the top screenwriting contests can truly help you sell your script and do wonders for your career overall.
Our friends at Script Reader Pro put together an awesome list of screenwriting competitions (opens new window), complete with a calendar of events so you can properly manage your time.
# Summary of Selling Your Screenplay
There's no definitive way to sell your screenplay. Just know that once your writing is done, your work is far from over.
There are clear advantages and disadvantages to some of these methods, but you'll ultimately need to find your own way to sell your screenplay.
Prewrite tries to make the process easier through the StoryShare feature, which is included in every level of Prewrite membership.